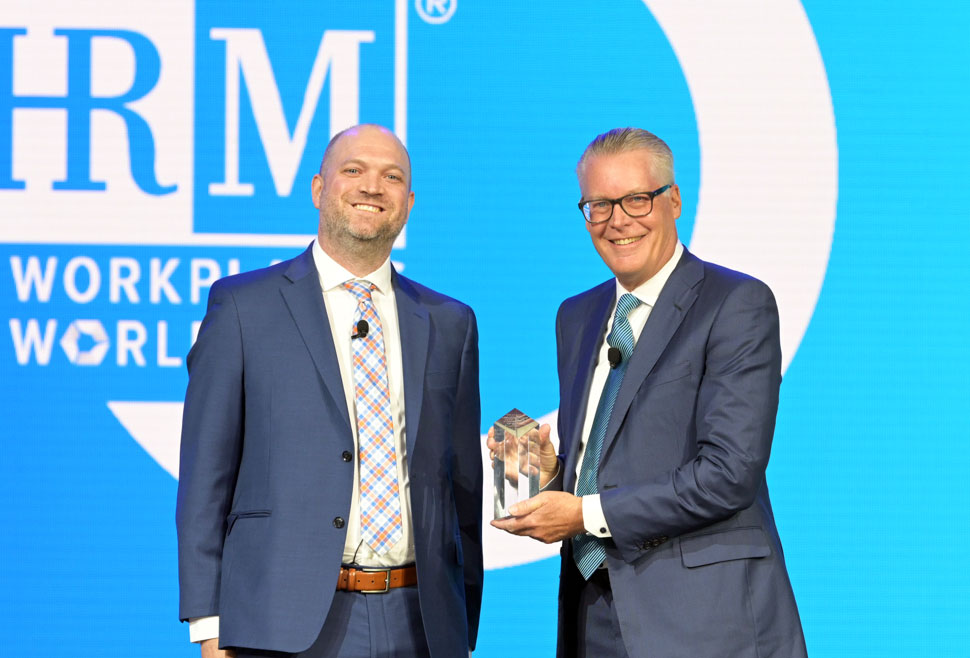 Chicago, Illinois, USA – WEBWIRE – Wednesday, October 4, 2023
The William G. McGowan Charitable Fund, dedicated to furthering the compassionate philanthropy and ethical leadership of William G. McGowan, in partnership with SHRM, proudly presented the organizations' second annual Ethical Leader of the Year Award to Ed Bastian, the Global CEO of Delta Air Lines, during SHRM's 75th Annual Conference & Expo (SHRM23) in Las Vegas, Nevada.
More than 20,000 were in attendance and participating virtually during this historic milestone, an award celebrating deserving individuals symbolizing each year the McGowan Fund's six principles of ethical leadership – character, integrity, accountability, empathy, self-awareness, and courage.
The Fellows Program was established fourteen years ago, in concert with ten of the nation's leading universities, to infuse MBA and other leadership programs across the United States with those same principles.
"Along with a national committee of judges, we are privileged to honor Ed Bastian for his people-first leadership at Delta. Over 25 years, Delta faced daunting challenges, including the pandemic. Ed's decision-making reflected his values, prioritizing customers and teammates. Accountable and empathetic, he embodies the legacy of William G. McGowan," stated Brian Peckrill, Interim Executive Director, William G. McGowan Charitable Fund. "In recognizing Ed Bastian, we celebrate an exceptional leader who navigated turbulent times, leaving an indelible mark on the airline industry. His people-first approach inspires ethical leadership and excellence. Congratulations to Ed Bastian for this well-deserved accolade."
SHRM, the world's largest trade association of HR professionals in the world, is committed to ensuring the highest principles of ethical leadership are maintained. SHRM President and Chief Executive Officer Johnny C. Taylor Jr. will serve as Co-Host of the annual Ethical Leader of the Year Award in partnership with the McGowan Fund during future annual conferences. Next year, SHRM Annual Conference & Exposition (SHRM24) will be held June 23-26, 2024 in Chicago.
"On behalf of SHRM and our 325,000 members, it is my honor to continue to serve as co-host of the annual Ethical Leader of the Year Award in partnership with the McGowan Fund," said Taylor. "The key to building a strong culture within an organization is ensuring that ethics are defined, understood and practiced in the workplace. It is an honor to be able to recognize and celebrate a CEO during our annual conferences who embodies ethical leadership."
The William G. McGowan Ethical Leader of the Year Award candidates were nominated and evaluated by a diverse selection committee of peers, and judged on their ethical leadership. Ed Bastian received a $25,000 monetary prize to donate to a charitable cause of his choosing in receiving the accolade, which this year was donated to The Rally Foundation.
Ed Bastian, Global CEO of Delta Air Lines, stated that, "It was a privilege to accept the William G. McGowan Charitable Fund's 2023 Ethical Leader of the Year Award on behalf of the over 100,000 Delta team members worldwide at SHRM2023 in Las Vegas. This was a shared testament to the empathy, accountability and resilience of Delta people that's demonstrated daily in service to our customers and stakeholders."
"I look forward to serving as a judge to oversee next year's nomination alongside Johnny Taylor, Brian Peckrill and other leaders who aim to raise awareness of the importance of servant leadership, empathy and taking care of your people."